Hopkins Bay – Sensational Beach Resort For Families In Hopkins Belize
Finding a resort, in a foreign country, that you can trust to bring your kids to and have a fabulous beach vacation, is not always easy to find. We have recently stayed at Hopkins Bay Resort in Hopkins, Belize, and absolutely loved it!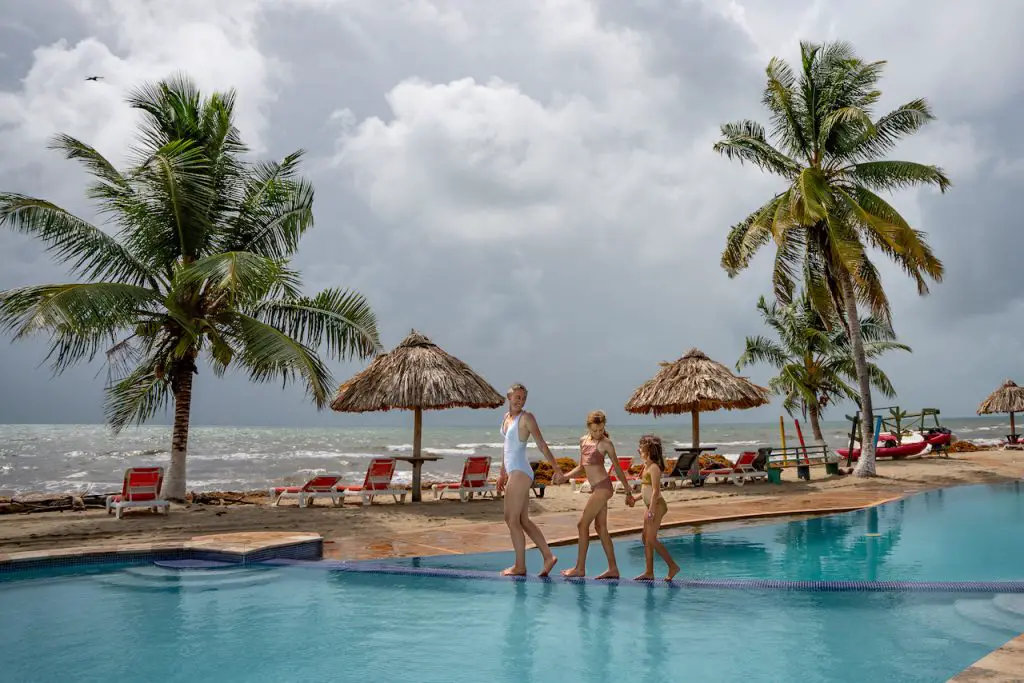 If you are looking for a luxury family-friendly beach resort in Hopkins Belize, this is it! We also loved staying in Hopkins, as it is a good base for all adventures from beach / snorkeling / diving, to jungle / river / animals.
Here's everything we loved about it:
1- Large Family-Friendly Accommodations
We were very impressed by the size and quality of the accommodations at Hopkins Bay Resort. Belize, in general, has accommodations a little simpler than American standards. At Hopkins Bay, the rooms are gorgeous, large, modern, and exactly what you could expect to find in the U.S.
All rooms are located in two-story beach villas scattered around a beautiful ocean-facing garden. It has the feeling of a small tight-knit community and you can configure your room from renting just a room with private bath, to the entire 3-bedroom villa.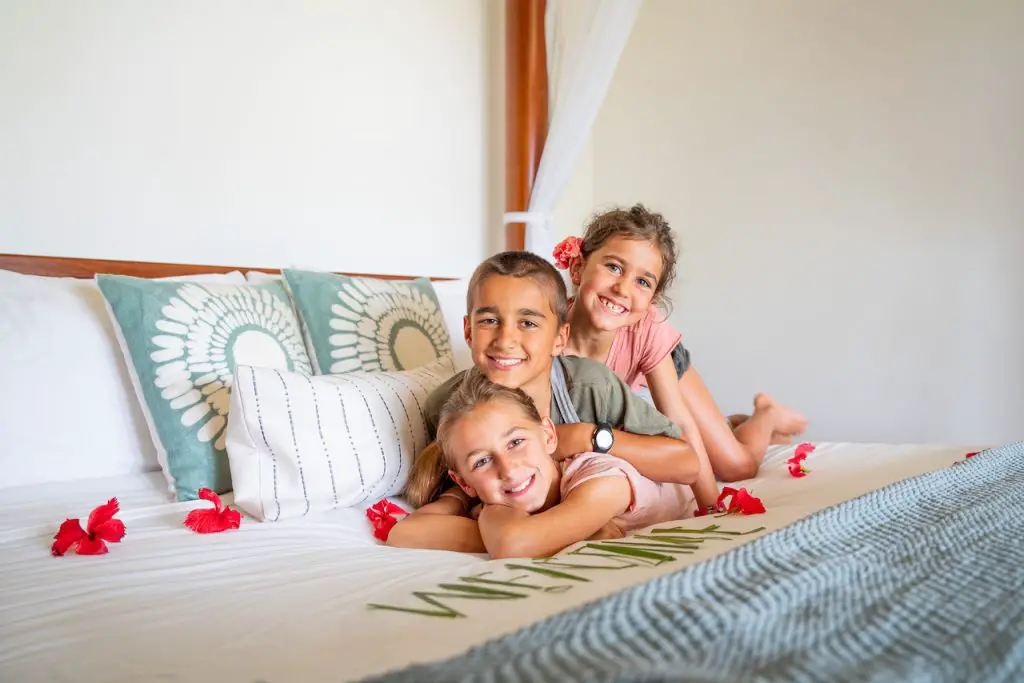 Based on the configuration you choose to rent, the villa can come with up to 3 bedrooms and 3 full baths, as well as a large and modern kitchen, allowing you to keep your food fresh in a large fridge and cook meals as desired.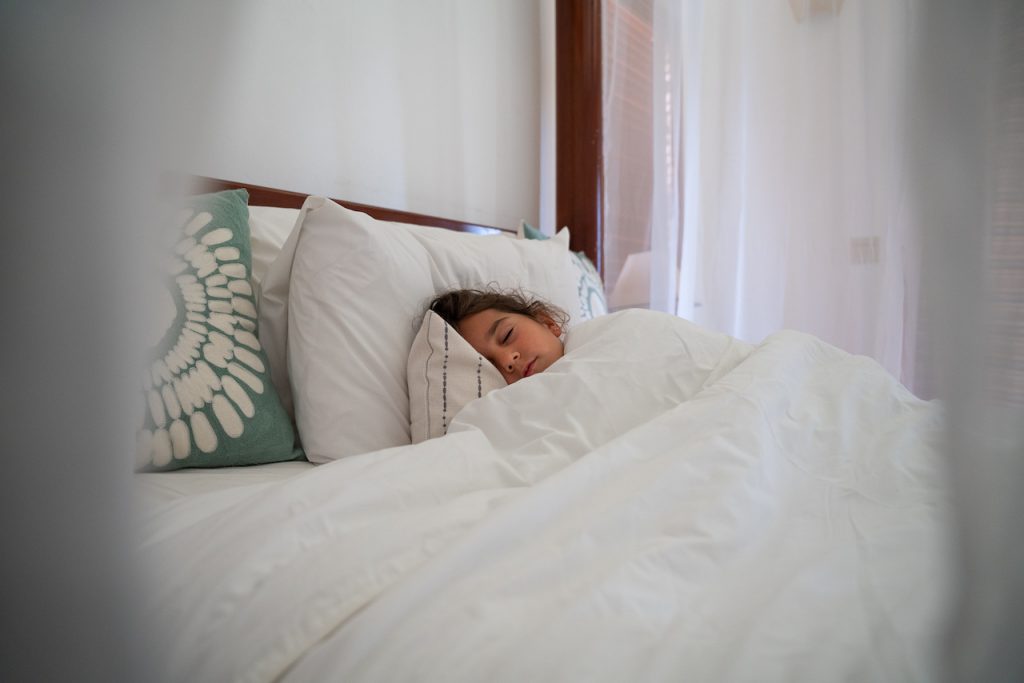 Our kids loved using the wrap-around mosquito net – though it really wasn't needed as we never had a single bug inside the villa (another unusual fact for a Belize resort in the wet season!).
We stayed in a 3-bedroom villa and loved all of the space everyone had to spread. Christian and I had plenty of room to work and take business calls, while the kids built forts and played around.
2- Ocean-Facing Villas
I believe that all villas have a view of the ocean, at least from the second-floor room, which is amazing. Our villa was third from the ocean and we saw the ocean from 2 sides from the bottom and top floors!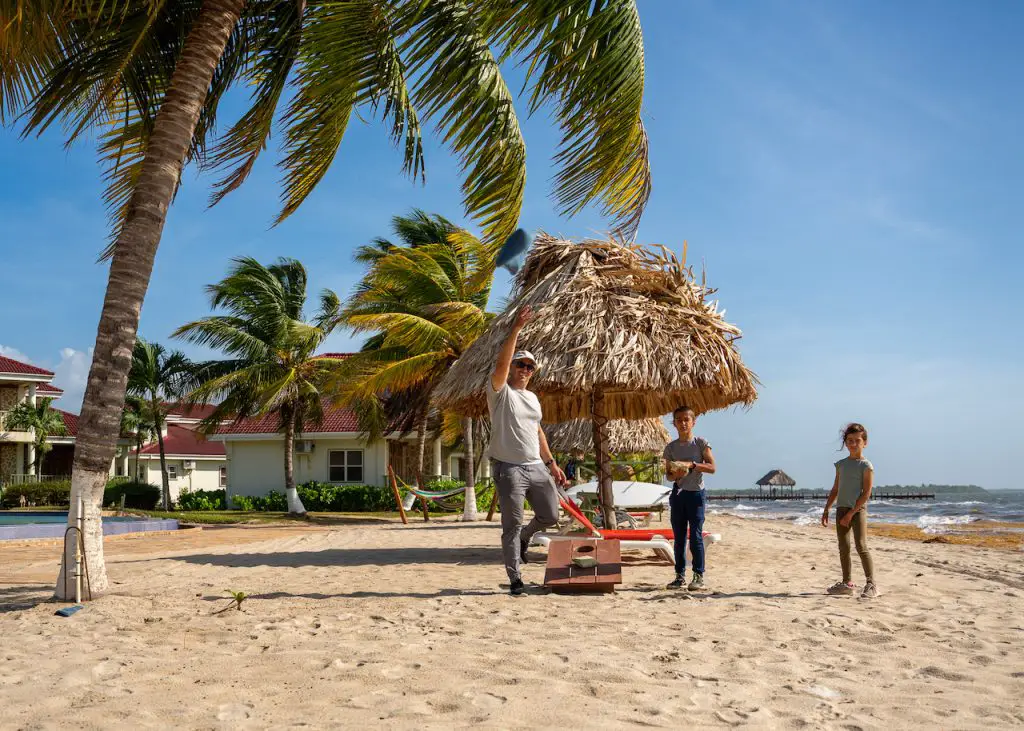 You can also choose to stay in an ocean-front villa and have the water at your door step!
All villas have plenty of space between them, with gorgeous landscaping around them and just steps away from the pool, restaurant, spa, and ocean. We loved the feel of the resort – super relaxing, laid back, family-friendly, with great beach vibes.
3- Awesome Food And Beverages
If your travel love language is food, Hopkins Bay Resort will easily satisfy your wanderlust taste buds. All meals are served pool / beach side in a beautiful outdoor bar restaurant. While it was being renovated during our stay, they were close to opening back up and it looked like a very neat space, with hanging swings and thatch roof.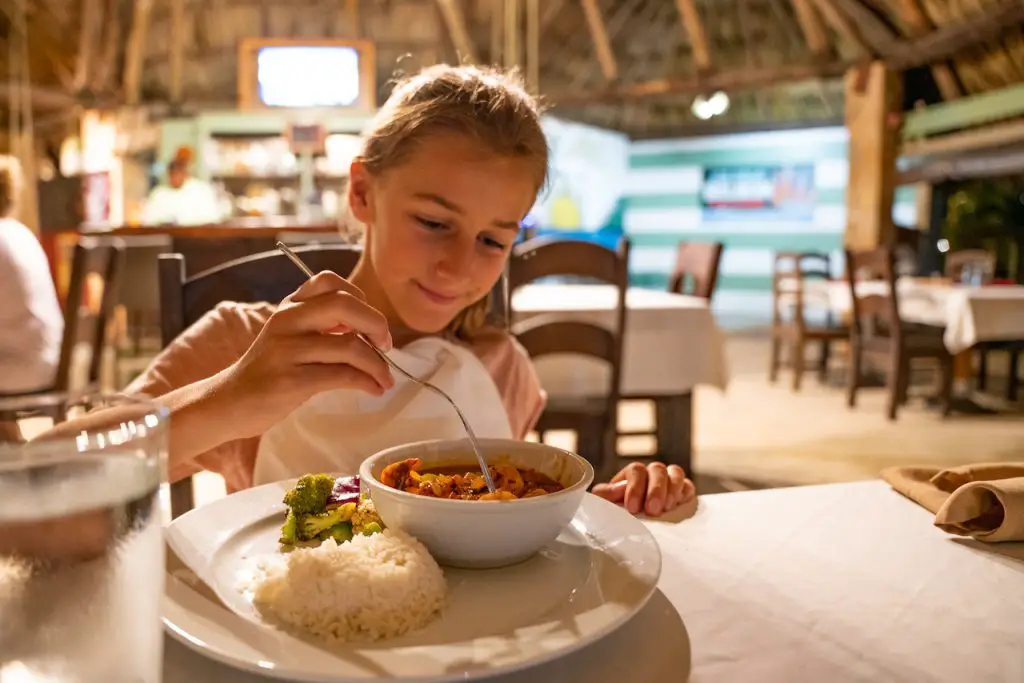 All three meals are served at the Rhum Shack with Belizean flair and a few American alternatives. I highly recommend all the Belize meals.
I feel like we have tried everything on the menu after our four nights at the resort and our favorites, and must-haves, were: the Belizean breakfast, breakfast burrito, stewed chicken, combo ceviche, shrimp nachos, and curry dishes!
The kids' favorites were: chocolate chip pancakes, breakfast burrito, chicken fingers (those were surprisingly delicious!), cajun fried shrimp, shrimp nachos, Caribbean shrimp, Alfredo pasta with shrimp.
4- Kid-Loving Staff
I find that a resort's staff has the power to make a resort family-friendly. At Hopkins Bay Resort, the staff is so kind to children!
The restaurant crew spent time helping us understand which food was spicy and learning our kids' favorites at breakfast.
Some of the maintenance guys pulled down, and cracked open coconuts for the children.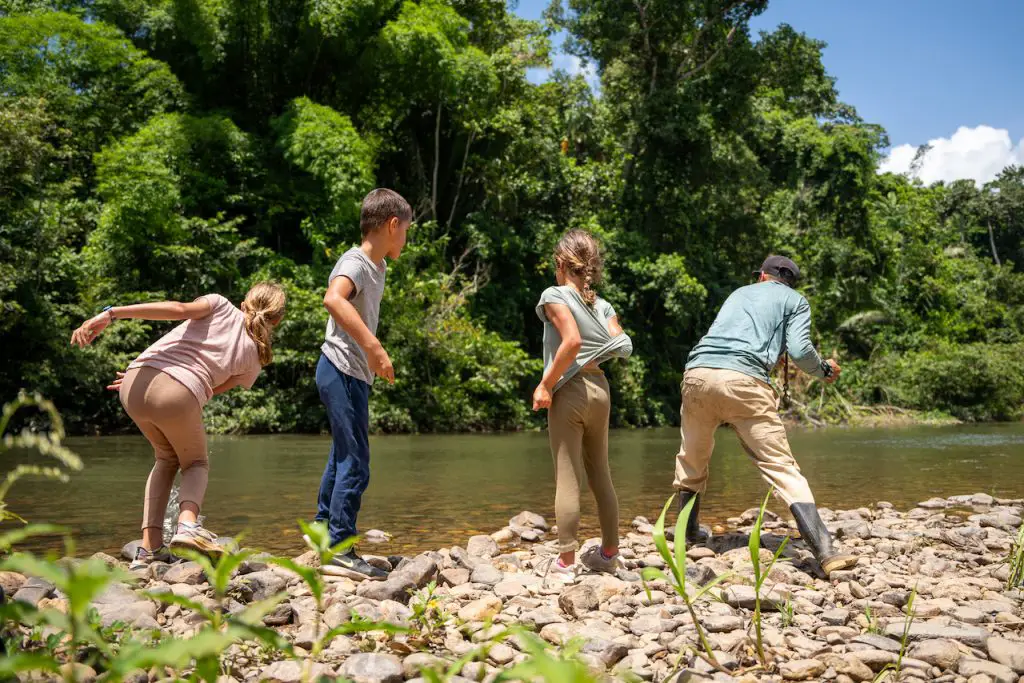 The tour staff was exceptional!! Our youngest got a riding lesson during our horse riding excursion, and they all worked on their rock skipping skills with the guides.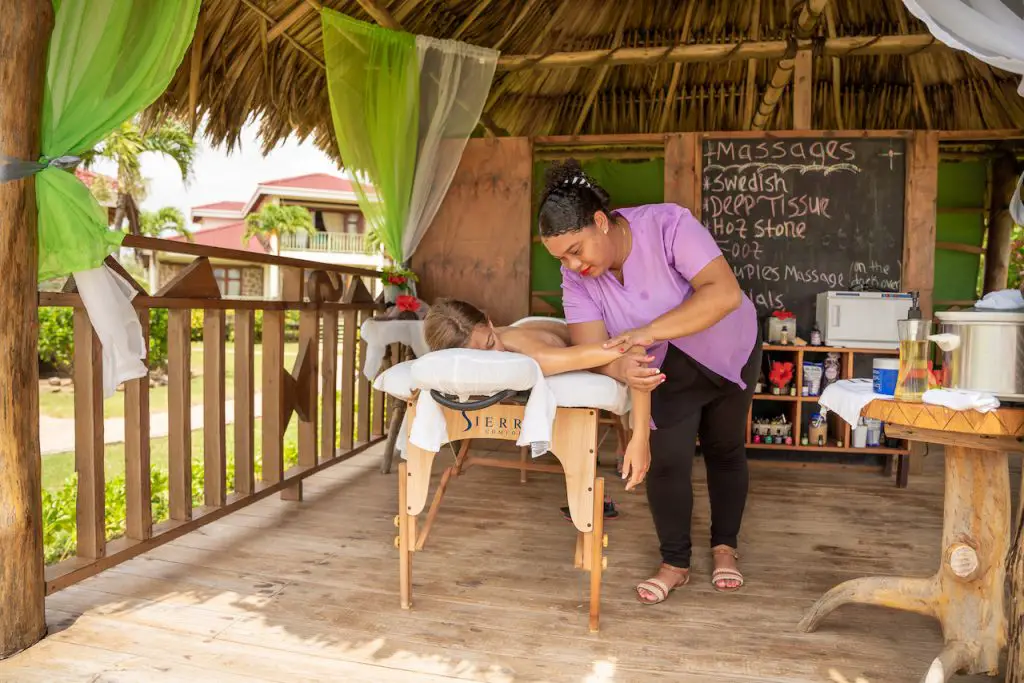 The spa ladies were fantastic as well, making sure they targeted their treatment to the needs of a child and speaking with Ava about her preferences and the treatment they were going to perform.
Hopkins Bay Resort truly is a family-friendly beach resort and seeing our children accepted and respected as guests made our time here even more beautiful!
5- Adventurers' Delight
Hopkins Belize is such a good place to stay if you like adventures! Hopkins Bay Resort can help schedule all sorts of adventures and even has a 5-star PADI center if you are looking to get certified or go diving.
Because of Hopkins' location in the country, you are only a couple of hours from the Belize City international airport, right on the ocean, and near everything the jungle has to offer.
We went on the horse-riding and river-swimming excursion and both the guides and the tour were exceptional. But make sure to check with the concierge for tour availability as they offer so many fun tours within a couple of hours from the resort.
Note that you can also borrow kayaks, paddle boards, and bikes at your leisure. We loved riding into the little town of Hopkins and while storms prevented us from enjoying water sports, those must be really neat as the water looked really clear and fun to be on.
6- Prefer A Spa Day?
Hopkins Bay Resort has a beautiful little spa, offering treatments from Swedish and deep tissue massages to their new collagen facial, hot stone, and foot massages. The couples massages must be amazing and are performed on the dock above the water.
Ava and I received side-by-side treatments and the pool-side, ocean-facing hut is the most charming place to receive a massage. The staff plays gentle spa music and you are taken away by the waves rolling into the beach. The setting is perfect and oh-so-relaxing!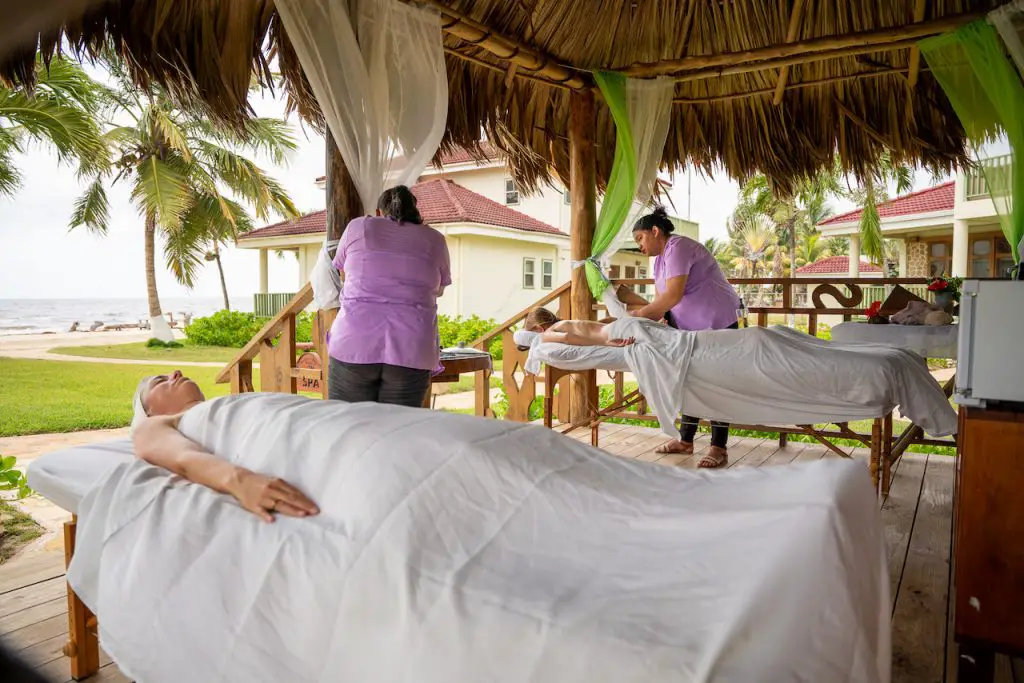 Ava received a 30-minute full back massage and absolutely loved it. She came out saying her skin was so soft and feeling so relaxed. I received the new collagen facial, which was a 45-minute treatment, including several delicious-smelling masks and a foot and calf massage as the collagen worked its magic.
7- Beach, Ocean, And Pool Fun
If you are here for a beach vacation with kids in Belize, you are in luck. The entire resort faces the ocean and the resort has free beach chairs and hammocks (seriously, the comfiest hammocks!). I don't have great pictures of it since a recent storm had brought in tons of seaweeds down the whole coast, but the beach must be gorgeous under normal circumstances!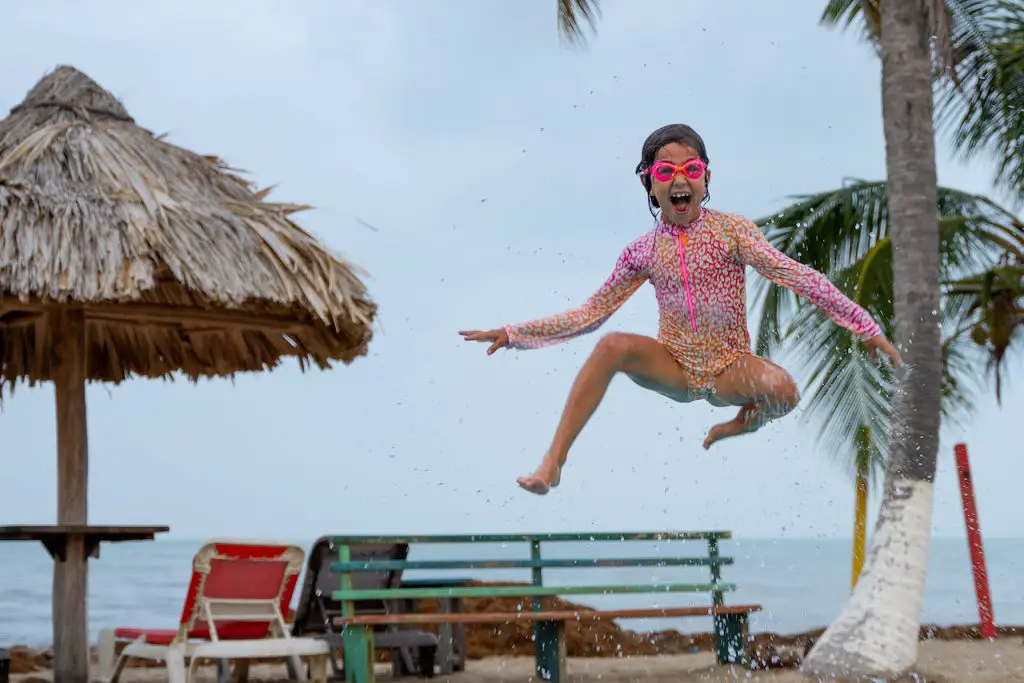 Hopkins Bay has paddle boards and kayaks for you to borrow and use out on the ocean. I love resorts that include extras to allow you to fully experience the destination.
We spent plenty of time in the warm pool. The resort has two pools and each villa is steps away from the pool deck. If you have pool babies like we do, they will be in there several hours each day.
8- Modern Amenities
We have found that hotel amenities are very different in Belize than they are in the U.S. Each country has its own standards and Belize is staying away from large U.S. chains, which is fantastic for its economy and gives you a taste for the country.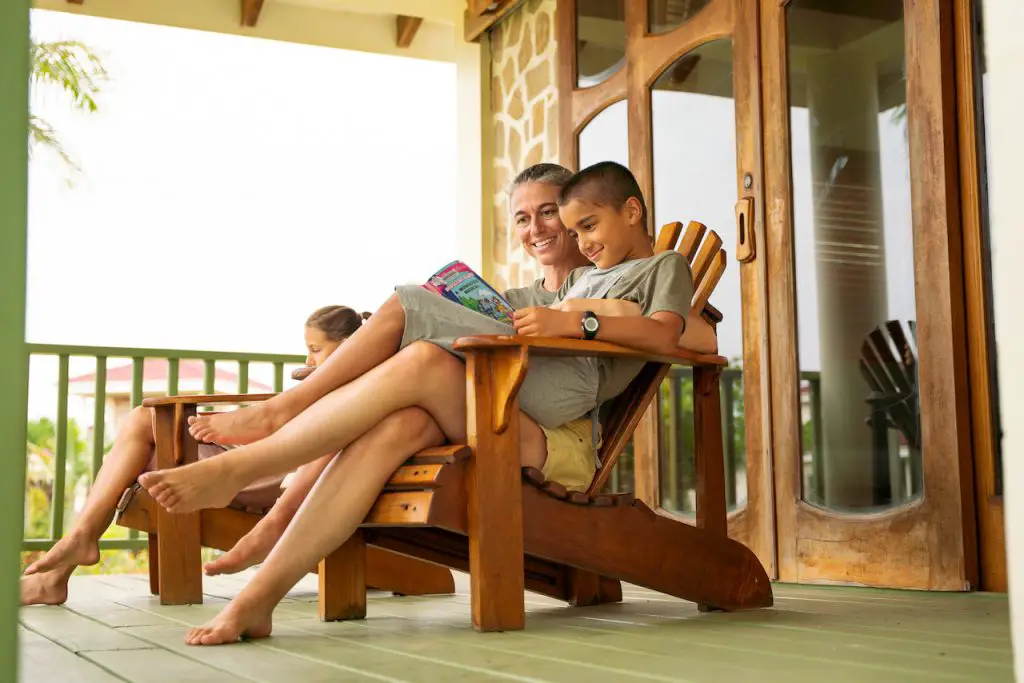 We absolutely loved the modern amenities of Hopkins Bay Resort, however! The resort is definitely catering to the higher-end American clientele and the villas have everything you could ever dream of at a luxury beach resort.
The resort-wide wifi worked wonderfully. My husband and I both work while traveling full-time, and had no problem conducting all of the calls / video conferences / uploads we needed for work. If you need to work from home, definitely consider Hopkins Bay as a good base in Belize!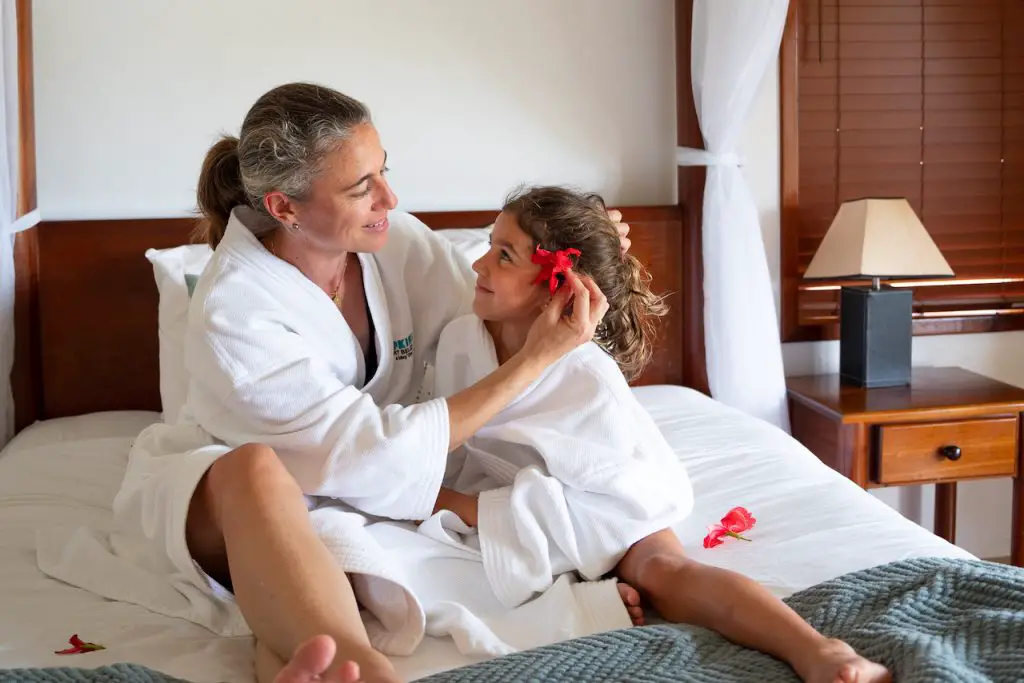 The villas have A/C!! Do not take that for granted in Belize!! All rooms were cooled, not just the bedrooms, and the units worked perfectly well, giving us much-needed relief from the heat on those hot and humid summer days.
While we don't watch much TV at all, it was nice to have connected TVs in all bedrooms. This was our first Belize resort with TVs, and I didn't mind a movie in bed at night!
Hopkins Bay – Sensational Beach Resort For Families In Hopkins Belize
We have thoroughly enjoyed staying at Hopkins Bay Resort. The nearby beach village of Hopkins Belize has amazing vibes, the resort grounds are gorgeous, the staff goes out of their way to make your stay memorable, and there are so many fun things to explore in the area!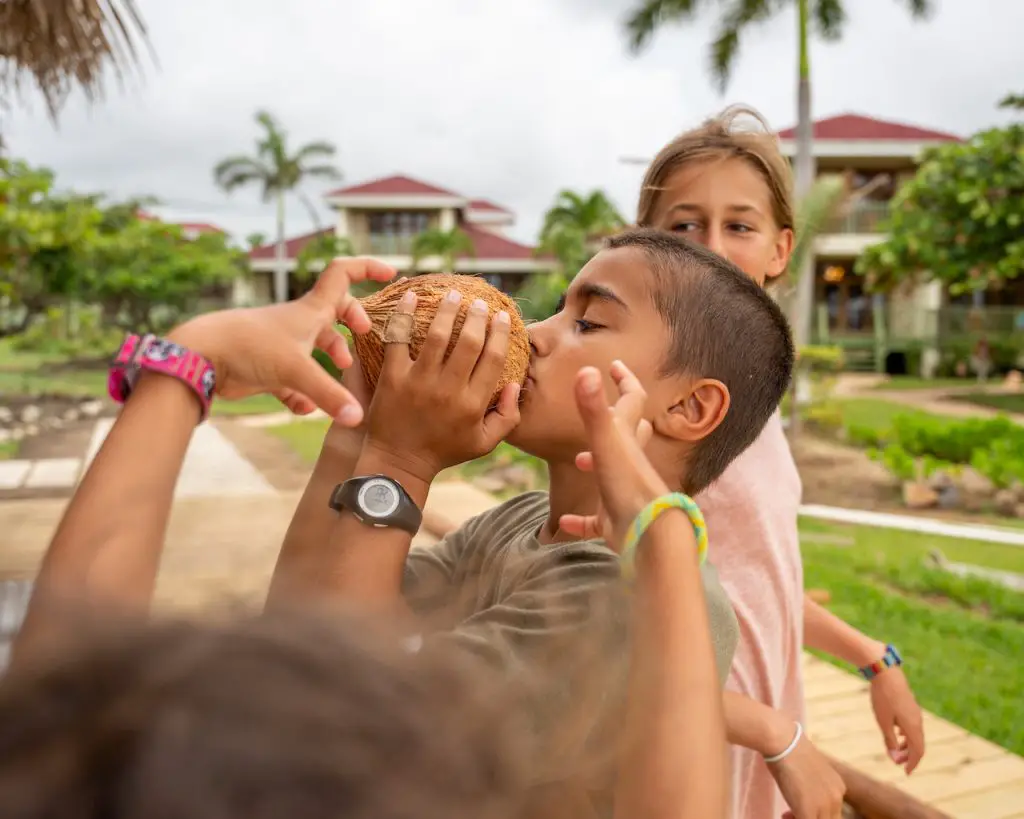 If you are looking for a luxury beach resort for families in Hopkins, our family highly recommends Hopkins Bay Resort!!
A huge thank you to Muy'Ono Resorts for hosting our family on this fun trip. While meals and activities on this list were comped, all opinions are our own and reflect our personal family experience at Hopkins Bay Resort.
---
Pin for later!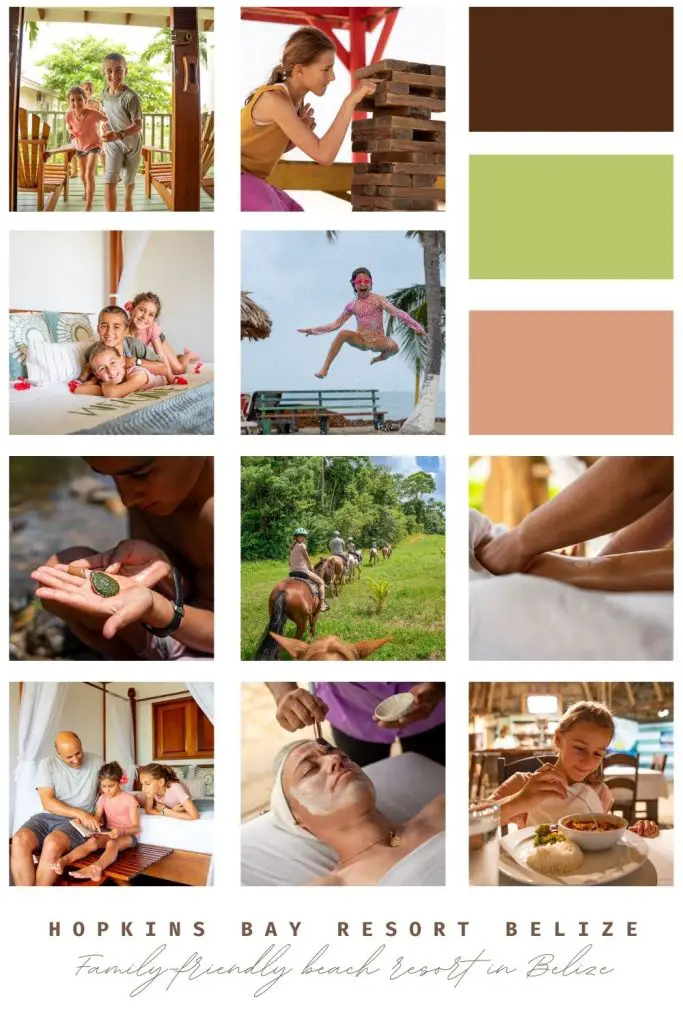 ---
Related articles you will enjoy:
1-Week Costa Rica Roadtrip With Kids
The Ritz Carlton Grande Lakes Orlando – Luxury Couple's Escape
Legoland Florida: 10 Tips And 5 Questions Answered